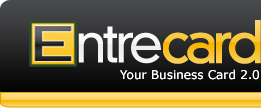 My favorite advertising site just got better!
Entrecard
just unleashed three new features on it's members, and I for one say hallelujah! Graham talks about them on the
Entrecard blog here
.
Entrecard Members are greeted today with three great new features that will shock and amaze.
Well... I'm not so sure about THAT but they are fun new features. The first is the changing of the inbox. Instead of being yet another column to the right side of the page, it's a nifty little feed across the top. I think this is way more efficient, but I can see how some people don't see the big deal.
Next there's a news feed... which I TOTALLY dig. I have so many feeds already coming into my Google Reader that sometimes I just have to delete ones that are mildly interested but I don't end up reading. This allows me to set different blogs as favorites on
Entrecard
and see their headlines so I can judge if there's something worthwhile out there to read. Since I'm on Entrecard every day it's a pretty easy way to spread out the blogs I read.
Lastly, I see no purpose in this feature except to poke fun at ourselves. They have added a nifty little drop rank feature in your blog area just to see how you rank in dropping entrecards. Again, no real purpose (it's not a competition afterall) other than to have some fun. And I, for one, at least see the importance of that.
So once again I say, rock the eff on,
Entrecard
!